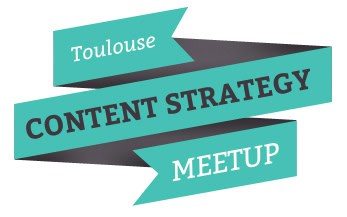 There's a new speaker in town, and her name is Lise Bissonnette Janody (@lisejanody). At the inaugural Content Strategy Meetup in Toulouse on Oct. 17, 2013 organized by La Cantine and La Mêlée, Lise gave a wonderful overview of Content Strategy, and its relationship to Content Marketing, and Brand Content.
If you don't know Lise, she is the organizer of Content Strategy Meetup in Paris and has over 20 years experience working with content. She is currently a content strategist and consultant at Dot-Connexion, which she founded.
Content Strategy Meetup Toulouse
It was a pure treat to have Lise join us in Toulouse. Some quick notes that I'd like to share from Lise's talk:
Content Strategy… c'est «un tout». It's all about the whole lot. It's a tremendously multi-disciplinary field;
Content strategy is a circulaire process, that never stops. There is no «deliverable» in the purest sense of the term…. it's in continuous movement;
Content Marketing is more oriented B2B, and Brand content is associated B2C;
Content Marketing is informative, not trying to make a direct sale;
Classic, everyday regular content is about clearly giving the client useful information.
These notes certainly do not do justice on the depth of topics that Lise covered. She was the perfect speaker for a very engaged crowd, both web professionals and client users. Everyone took home something from the talk. There was quite a lively debate throughout the evening.
Lise has graciously published her presentation on slideshare. I highly recommend you follow Lise (twitter and slideshare) who will be giving more talks in the near future, including this March 2014 at the highly reputable Intelligent Content Conference in San Jose, CA. Thank you Lise.
Lise shared her presentation with us in French:
But I also have it (close enough) for you in English:
Kudos to the organizers
And thanks to all the organizers and the groupe de travail (Roxanne, Céline, Céline, Jacqueline, along with the wonderful support from Alix) who made this first meetup a big success. And thanks to our sponsors Wow Marketing, Audit & Rédac'Web, and WS Interactive, who helped along with La Cantine to make this a great opening act to the new show on the block.
Ebooks and reviews
The meetup was a great moment to do an ebook review. Or two. I couldn't help myself but to kickoff our inaugural meetup with a review on Content Strategy for the Web, by Halvorson, and The Elements of Content Strategy, by Erin Kissane. If you're just getting started, or even for the experts among us, this is where to begin. What more is there to say?
One lucky participant went home with a brand new (hard) copy of Content Strategy for the Web and we hope to continue the tradition at each meetup.
See you there next time.